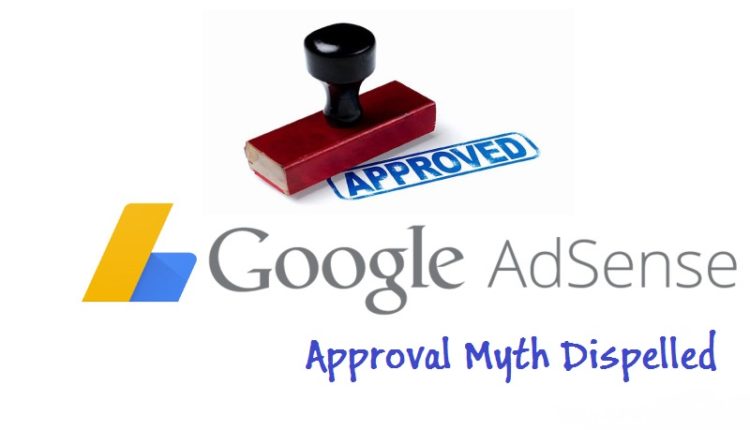 Google Adsense Approval Myth Dispelled
Truth about Google Adsense Approval
I have been blogging for quite some time through blogspot.com. This month I thought to do this through my own custom domain. Therefore I purchased a domain named 'exploremyindia.in' in the first week of this month. In my effort to launch the blog, I got an idea to create some sub domains and publish some more blogs on it. Construction of a proper blogging site took about 20 days and I could load all my blogs through its various sub domains and it all started running fine.
One day while browsing through the net, some advertisements caught my imagination and I got prompted to add such services on my sites too. I decided to add Google Adsense to my blogs. When I clicked to earning tab of the blogger it displayed 'Your blog doesn't currently qualify for AdSense.' I was dismayed and disillusioned. I did some research work on internet and found out that getting an Adsense account is not an easy task. In any case, it can not happen within next 6 months.
One night, more precisely on Jul 26, at around 9 PM (IST), while working on the internet and browsing around I just simply applied to google for a google Adsense account just to check it. I had no expectation that it will be accepted or approved. My God what a surprise? I received two emails from google just within 2 hrs. at around 11 PM one, stating that 'Your application has been successfully reviewed. Now you need to create your first ad unit and place the ad code on www.exploremyindia.in to fully activate your account.' and the other to create contact and payee profiles. I was surprised and enthused. I did some google searching again and was dismayed again on finding that it takes around 2-3 weeks before finally the account is approved and that normally it gets rejected. However, I created the ad units and as per the guidelines implemented them on my web site. Next day onward I started getting blank marks on my website as was denoted by google.
On Jul 28 at around 8 AM in the morning, exactly just after one and half days of my posting the ad units on the blog, I got a mail from google stating that 'Congratulations! Your AdSense account is now fully activated.' I was happy. Lots of myth about Google Adsense was dispelled. For my readers, therefore I am writing this blog on the subject, for their knowledge and information.
Myth: Google Adsense is normally approved for a blog or site only when they are sufficiently old (more than 6 months) and have been drawing minimum 200 viewers per day.
Truth: My site 'http://www.exploremyindia.in' was less than one month old and it was drawing less than 50 viewers per day.
Myth: Google Adsense takes 2-3 weeks after Ad units are implemented in a blog for approval.
Truth: In my case, it was approved just within one and half days.
Myth: Google Adsense is approved for an only top level domain and not for sub domains.
Truth: While applying though you have to put the name of the top level domain only, It is not necessary that you can not have blogs on your sub domains. My all blogs are posted on sub domains, the main domain is used only for navigational purposes. I had put the ad units on my both main domain and the sub domains during the second level of review.
Myth: Your blog should be complete and running in all aspects.
Truth: Some parts of the blog were still under construction and innovational measures were being implemented to make it more appearing.
Myth: There should be minimum 30-40 posts on your blogs.
Truth: I am running total seven blogs on my site through sub domains. Only one blog had 30-40 posts and most of other blogs had even 2-3 posts on it.
Myth:  When you become eligible for Adsense, your status will be upgraded and shown in your Earning tab.
Truth: My status in earning tab is still showing 'Your blog doesn't currently qualify for AdSense.' whereas my Adsense account is fully activated and Ads are showing on my blog.
Myth: You should have a professional E-mail account of the domain where your blogs are hosted.
Truth: I have a Gmail account and had applied using this mail.
Myth: You can earn a lot of money or you can hardly earn anything from a Google Adsense account.
Truth: I can not comment as I am very new for it.
 
Myth: Your blog should have 'Substantial Unique Text Contents' for getting google's Adsense approval.
Truth: God knows who promulgated this theory. This is absolutely wrong.
Myth: Your blog design matters a lot. It should be professional and smart looking which represents your expertise, experience, and professionalism. So be careful because anything can kill your chances of getting approved by AdSense.
Truth: I don't know all these things. I have used simple custom designs as provided by blogger.com. I did not spend any money for getting third party templates for my blog design.
Myth: At an average, only 10 accounts get approval out of 1000 applications.
Truth: I am not in a position to comment on this myth. Should I presume that it was just my luck that I got approval, and I was a winner in the lottery system?
Since I have attempted to dispel the various myth about the approval of Google Adsense. What should one do to get their account approved? In my opinion, the following can be ensured:
You must be at least 18 years old.
Preferably use a Custom Domain.
Avoid prohibited contents.
No Third Party Ads or Programs should be on your blog.
Keep your blog lay out neat and clean.
Implement Google Analytics Code.
Include Google/Bing Webmasters Verification Page.
Include XML Sitemap Page.
Robots.txt
Keep with good elaborations the following embedded in your blog
Privacy Policy
Disclaimer Policy
Terms of Usage
Contact Us
About Us (Write your name and address through which you applied the AdSense account)
Copyright information
If you follow the above submission, getting approval from the Adsense is not going to be big deal.
All the best.