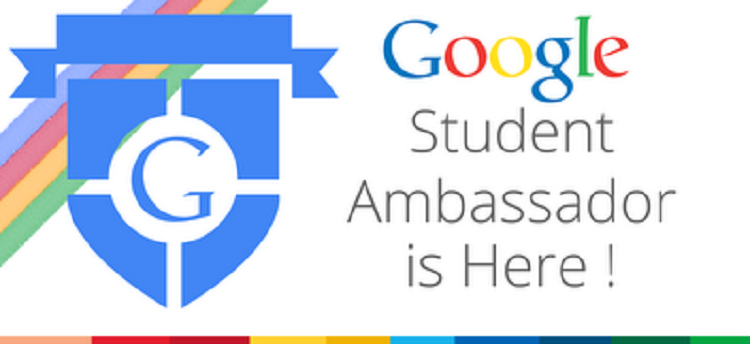 How to become a Google Student Ambassador in Colleges?
For a Bright Career, Launch Become a Google Student Ambassador
The Google Student Ambassador is a suo moto representative of Google to represent their technology and products among the student community at the college levels.
Google Student Ambassador program is a churning ground for producing future entrepreneurs, scientists, technologists or managers.
Google Student Ambassador Program in India generally starts during the month of May/June/July of a year.
One of the main pre-requisite for enrolling into the program is that your institutes should be at the roll of Google. The students should be elgible for the GSA program.
The list of Institutes authorized by Google Ambassador Program can be assessed from here.
Who Can Apply for the Google Student Ambassador Program?
Any full time student at the undergraduate/ postgraduate level pursuing a course in any discipline  like Arts, Commerce, Science, Law or Management etc. in a college/ university can apply.
Recommended for You:
Google Adsense Approval Myth Dispelled
Free Download Of Software For PC And Laptop: A Practical Review 
The Google Student Ambassador of the impaneled institutes will focus and facilitate the following activities at the college/ University levels:-
Disseminate Information about the Innovative Google products and programs.
Organize Events at the Campus levels.
Act as a liaison link between the Google and College/ University aspirants.
Assist Google in understanding the evolving culture of the college/ university.
Selection Procedure:
The student aspiring to become the Google Student Ambassador will apply by filling up the form on the Google GSA Link  for their respective country.
As the eligibility criteria for selection of GSA is always subject to change, an aspiring student is well advised to visit the Google from their Education link for an updated information on the subject.
Google referer should forward the name of students who are desirous of undertaking the GSA program. Google asks referrer to identify 5 students from their institute every year and forward their particulars to the Google.
Only referred students can fill up the GSA application form otherwise their candidature will not be considered.
Google shortlists the GSA aspirants, undertake their interview and finally, the Google Student Ambassador for the institute is selected. The selected students will undergo training by Google itself. After acquiring necessary knowledge and expertise, they will act as a liaison between Google and the student community.
Google Student Ambassador Program is a life time opportunity for any student. Therefore every student should try out.